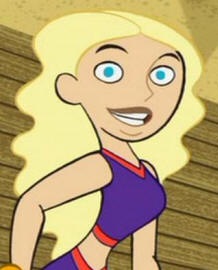 Portrayed by:
(born September 6, 1988[1])
Biography
Edit
.
Alternate timelines
Edit
.
Physical appearance
Edit
.
Psychological profile
Edit
.
Skills and abilities
Edit
.
Equipment
Edit
.
Weaknesses
Edit
.
Appearances
Edit
Ollie Powers
Edit
"Room Full of Geniuses"
"The New Hank" (Cameos)
"I Want My Body Back"
"Animal Attraction"
"Newsworthy"
"Camp Gonnacrie"
"Top Spot"
"Average Guy"
"At the Concert Tonight" (Cameos)
"The Lair of the Beast"
"How Many Ronnies Are There?" (Cameo)
"Trouble at the Space Center" (Cameo)
"Tutor" (Cameos)

"Naked Genius" (Cameo)
"Everybody Talks About the Weather Machine"
"The Queen Bebe"
"Car Alarm" (Cameo)
"Shear Strength"
"Return to Camp Gonnacrie"
"Blush" (Cameo)
"Monkey See, Monkey Do"
"The Outsider"
"Chair"
"Emotion Sickness"
"We Stick Together" (Cameo)
"Be My Bad Boy"
"Honor" (Cameo)
"Go Fly a Kite"

"Ollie Powers: Race Against Time"
"Ollie Powers: All That"
"Unsuitable"
"Two Places at Once"
"Out of This World"
"The Hyde Factor"
"Grande Size" (Cameo)
"Aye, Aye, Captain"
"Risk Factor"
"Someone for Everyone" (Cameos)
"The Little Things in Life"
"Graduation Day" (Cameos)
Appearances in Other Media
Edit
.
References
Edit
Ad blocker interference detected!
Wikia is a free-to-use site that makes money from advertising. We have a modified experience for viewers using ad blockers

Wikia is not accessible if you've made further modifications. Remove the custom ad blocker rule(s) and the page will load as expected.