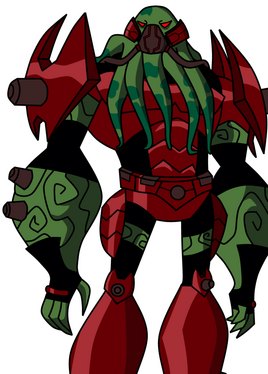 Portrayed by:
Syrax of the Phulu Guild (July 19, 1604[1] — d. 2103[2])
Appearance
Edit
.
Personality
Edit
.
Abilities
Edit
.
.
Youth and upbringing
Edit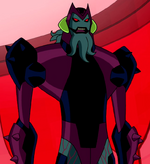 Syrax was born a nobleman in the Chimera Sui Generis royal family.[3]
Plaguing the Dentists
Edit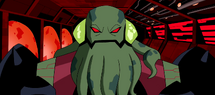 .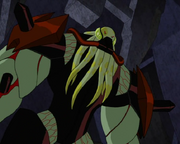 .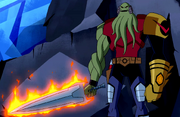 .
When Tim McGinnis retired from his heroics in 2061, Syrax continued to hunt the Omegatrix handed down to Daniel McGinnis. After killing Daniel in 2095, Syrax took the Omegatrix back to Murray and converted it into the planet's defenses, eventually turning Murray into a massive spacecraft.
By 2101, Syrax was preparing to use Murray for universal conquest, until, in 2103, Tim's grandson, Riley McGinnis-Anderson, used the Biomatrix to attack Murray and slay Syrax in vengeance for Daniel's death.[4]
Alternate timelines
Edit
.
Relatives
Edit
[[]] - Mother
[[]] - Father
[[]] - Siblings
[[]] - Spouse
[[]] - Children
[[]] - Grandchildren
[[]] - Maternal Grandparents
[[]] - Paternal Grandparents
[[]] - Aunts
[[]] - Uncles
[[]] - Cousins
[[]] - Nephews
[[]] - Nieces
Appearances
Edit
Dial 'A' for Alien
Edit
Nakine and Blue
Edit
"The Omegatrix" (Mentioned only)
Dial 'A' for Alien: Hero Generation
Edit
Dial 'A' for Alien: Fame
Edit
Dial 'A' for Alien: New Beginnings
Edit
Dial 'A' for Alien: Master Control
Edit
Appearances in Other Media
Edit
.
Syrax's working names were Sabanur and Cyaxx.
References
Edit
Ad blocker interference detected!
Wikia is a free-to-use site that makes money from advertising. We have a modified experience for viewers using ad blockers

Wikia is not accessible if you've made further modifications. Remove the custom ad blocker rule(s) and the page will load as expected.