Portrayed by:
"I wonder..."
— The Sixth Caretaker's catchphrase
"Now you listen to me."
— The Sixth Caretaker's other catchphrase
The Sixth Caretaker (4648-5637) represented the sixth incarnation of the Time Lord known as the Caretaker, though he was the seventh body in the lineup.
Foreshadowing
Edit
.
Post-Renewal
Edit
.
"You were expecting someone else?"
— First Words of the Sixth Caretaker
Dark Beginnings
Edit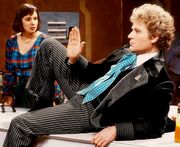 .
Mellowing Out
Edit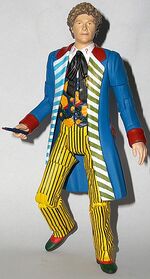 .
Settled In
Edit
.
Traveling Alone
Edit
.
The Whifferdill Penguin
Edit
.
The Return of Peri
Edit
.
The Trial
Edit
.
Post-Trial
Edit
.
Travelling with a Historian
Edit
.
Lost in the Multiverse
Edit
.
Old Friends
Edit
.
Whilst walking though a spaceship, the Caretaker came under the control of the Great Intelligence and almost walked out the air lock. However, an echo of Carmen Montague called out to him, snapping him out of the trance before he could commit suicide. Soufflé Girl
.
.
Reunited with Peri
Edit
.
The Ultimate Adventure
Edit
.
Sarah and Robert
Edit
.
The Companion from the Future
Edit
.
Second Quest for the Key to Time
Edit
.
Trapped in Victorian London
Edit
.
Voyages with Vereke & Leila
Edit
.
.
Running Out of Time
Edit
.
History Takes Its Course
Edit
.
.
"Don't cry, Zoey. It was my time. Well, maybe not, but it was my time to give. To donate. I've had a good innings, you know. Seen and... and done a lot. Can't... complain this time. Don't... feel... cheated..."
— Last Words of the Sixth Caretaker
Post-mortem
Edit
.
Undated events
Edit
Alternate Timelines
Edit
.
Appearance
Edit
.
The Sixh Caretaker was 1.83 metres tall.
.
Psychological profile
Edit
Personality
Edit
The Sixth Caretaker was unpredictable, consistently self-absorbed, stubborn, childish, argumentative, angry, moody and full of arrogance, sometimes becoming almost full of himself. He could be melodramatic and even described himself as pragmatic. The More Things Change However, he could be quite critical of himself in some situations. The Horror of the Dreleks He rarely doubted his abilities and considered himself greatly superior to nearly everyone whom he encountered. The More Things Change Beneath his thunderous and turbulent exterior, however, he was quite the opposite: a passionate, warm, righteous and emphatic individual. Volvok
The Caretaker's adventurous side still remained, but the sixth incarnation was more selfish about it, especially when it came to decision making. He would often decide he knew what his companions wanted out of their travels and often told them where they wanted to go instead of asking them. The Killingworth Caper Another trait that remained was his curiosity and urge to see that justice was served. Volvok
The sixth incarnation did not suffer fools gladly. Valley of Shadows He sometimes seemed to endure his companions' presence far more than he enjoyed it, but this incarnation's brash exterior hid the fact that this was a Caretaker more determined than ever to defeat the evil which he encountered. The Killingworth Caper Despite his often unstable demeanour, he was quick to act when the situation called for it, and very little, even his companions, could hope to get in his way. Return to Telos More than his other incarnations, the Sixth Caretaker was a fatalist, more than once deciding he was doomed and resolving to accept his fate. Blood of the Robots
During this incarnation, the Caretaker began to see the logic in murder. This might be reflected in being slightly more accepting of violence. Return to Telos While his physical attack on Peri could be attributed to post-renewal stress, The More Things Change he reacted with a humor after witnessing two men fall to their death in an acid bath, Death on Varos smothered Shockeye to death in self defence The Androgum Inheritance and killed the Techno-Controller at close range with a Techno-Gun. Return to Telos
However, the sixth incarnation also had a more emotional and caring side, determined to not to let people die, "if there's a chance of saving them." The Menday Fault When Peri was distressed over the idea that Ravolox was a devastated Earth, the Caretaker tried to comfort her, even showing empathy for her plight, and was devastated when presented with the false news of Peri's demise on Thoros Beta, and was enraged that the Time Lords had decided to act like second rate gods and engineer her execution, threatening he had every intention of discovering what they were up to. When he discovered the Time Lords were behind the Ravolox conspiracy, he announced his purpose was to stop evil and power mad conspirators. The Time Lord Trial After an unpleasant encounter with an Androgum in Spain, the Sixth Caretaker became a vegetarian. The Androgum Inheritance
After the events of his trial, the Sixth Caretaker became more aggressive and irascible. However, this was used to cover up a deep feeling of depression which resided within. [[.|.]] After traveling with Hal Gryden, the Caretaker did become a sombre individual, rather than being genuinely depressed, becoming friendlier and more playful, as well as sharing jokes with others during serious situations. [[.|.]] Although he maintained most of his fundamental negative qualities, they were less noticeable and controlled. This new persona would be maintained for the rest of his sixth incarnation. [[.|.]]
Habits and Quirks
Edit
Commonly, he would overreact with rage when questioned about his methods, or if his plan seemed insane, repeating a single word from the criticism, often getting louder as each repeat went on. The More Things Change
He also had a taste for poetry, often reciting bits of it. The Killingworth Caper
The Caretaker would stroke his cat brooches before attempting something risky. The More Things Change
The Sixth Caretaker was highly deductive, able to understand a situation based on small details that others often overlooked. The More Things Change
Aside from having a musical voice, The Time Lord Trial the Caretaker was also an amateur musician, being able to play piano, Return to Telos trumpet Doomwraiths and a harp. Blood of the Robots
Relationship With Other Selves
Edit
.
Appearances
Edit
Time and Space
Edit
"The More Things Change"
"Return to Telos"
"Death on Varos"
"The Androgum Inheritance"
"The Killingworth Caper"
"Blood of the Robots"
"The Menday Fault"
"Valley of Shadows"
"Volvok"
"Doomwraiths"
"The Horror of the Dreleks"
"The Time Lord Trial"
""
References
Edit
Incarnation of the Caretaker
Ad blocker interference detected!
Wikia is a free-to-use site that makes money from advertising. We have a modified experience for viewers using ad blockers

Wikia is not accessible if you've made further modifications. Remove the custom ad blocker rule(s) and the page will load as expected.