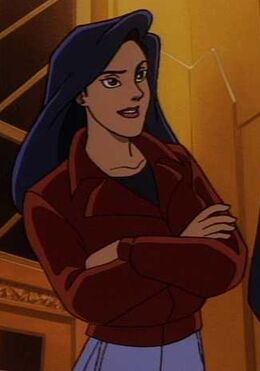 Portrayed by:
(born June 15, 1981[1])
Biography
Edit
.
Alternate timelines
Edit
.
Physical appearance
Edit
.
Psychological profile
Edit
.
Skills and abilities
Edit
.
Equipment
Edit
.
Weaknesses
Edit
.
Relatives
Edit
Appearances
Edit
London Gargoyles
Edit
"How the Gargoyles Got to London"
"Hunted"
"Human Nature"
"Long Time 'til Morning"
"Deadly Tools"
"The Force of Macbeth"
"Public Image"
"Brother's Keeper"
"Friends In High Places"
"Protecting the Castle"
"Wild Coyote"
"Metamorphosis"
"What is Real Anymore?"
"Scratches on a Page"
"Night of the Gargoyles"
"The Diamond Eye"
"Werefox"
"Something Old"
"Diabolique's Story"
"The Right Thing to Do"
"Protection"
"Copied"
"Nothing is as it Seems"
"The Cure"
"Old Times"
"Upgrades"
"Stone Sleep"
"Avalon"
"Old Wounds"
"The Loch Ness Monster"
"Follow the Leader" (Mentioned only)
"Heritage"
"Strolling Down the Champs-Élysées"
"Grief"
"The Heroes of Ulster"
"The Grey Goo Scenario"
"Lone Target"
"The Timeless King" (Mentioned only)
"The Eye of the Storm"
"Inhumanity"
"As Green As It Gets"
"Coyotes"
"Of Two Minds"
"The Return of Oberon"
"Bad Future"
"Revenge" (Flashback only)
"Turf War"
"Offspring"
"The Hunter's Moon"
"Rise of the Quarrymen"
"Invitation Only"
"Gargoyle Park"
"Blind Spot"
"Proteus Returns"
"Comfort and Joy" (Mentioned only)
"A Handful of Thorns"
"To Serve Mankind" (Mentioned only)
"Lines of Allegiance"
"Raksha Rising"
"Generations"
Appearances in Other Media
Edit
.
Morgan's production name was Maya Morgans.
References
Edit
Ad blocker interference detected!
Wikia is a free-to-use site that makes money from advertising. We have a modified experience for viewers using ad blockers

Wikia is not accessible if you've made further modifications. Remove the custom ad blocker rule(s) and the page will load as expected.