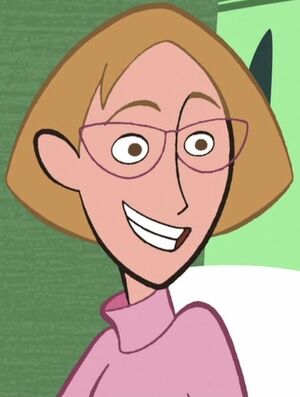 Portrayed by:
Judy Weeks (née Cooper, born December 16, 1972[1])
Biography
Edit
.
Alternate timelines
Edit
.
Physical appearance
Edit
.
Psychological profile
Edit
.
Skills and abilities
Edit
.
Equipment
Edit
.
Weaknesses
Edit
.
Relatives
Edit
Appearances
Edit
Ollie Powers
Edit
"Room Full of Geniuses" (Cameo)
"Camp Gonnacrie" (Mentioned only)
"Make a Man Out of You"
"Get the Mole Rat"
"The Outsider"
"We Stick Together"
"Mother's Day"
"Be My Bad Boy" (Cameo)
"Go Fly a Kite"

"The Intruder"
"Risk Factor" (Cameo)
"The Perfect Nanny"
"Big Brother"
"Someone for Everyone"
"Melvin's Birthday"
"The Little Things in Life"
"Graduation Day"
Appearances in Other Media
Edit
.
References
Edit
Ad blocker interference detected!
Wikia is a free-to-use site that makes money from advertising. We have a modified experience for viewers using ad blockers

Wikia is not accessible if you've made further modifications. Remove the custom ad blocker rule(s) and the page will load as expected.