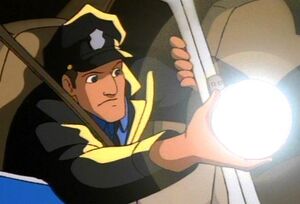 Portrayed by:
(born June 24, 1985[1])
Biography
Edit
.
Alternate timelines
Edit
.
Physical appearance
Edit
.
Psychological profile
Edit
.
Skills and abilities
Edit
.
Equipment
Edit
.
Weaknesses
Edit
.
Appearances
Edit
London Gargoyles
Edit
"How the Gargoyles Got to London" (Cameo)
"Human Nature"
"Brother's Keeper"
"Friends In High Places"
"Protecting the Castle" (Cameo)
"What is Real Anymore?" (Cameos)
"Werefox" (Cameo)
"Diabolique's Story" (Cameos)
"Protection" (Cameos)
"Upgrades"
"Avalon"
"As Green As It Gets"
"Turf War" (Cameos)
"The Hunter's Moon" (Cameos)
"Invitation Only"
"Proteus Returns" (Cameo)
"A Handful of Thorns"
"To Serve Mankind" (Cameos)
"Raksha Rising"
"Generations"
Appearances in Other Media
Edit
.
References
Edit
Ad blocker interference detected!
Wikia is a free-to-use site that makes money from advertising. We have a modified experience for viewers using ad blockers

Wikia is not accessible if you've made further modifications. Remove the custom ad blocker rule(s) and the page will load as expected.