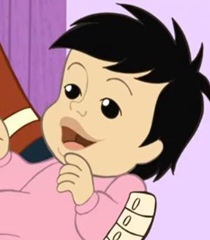 Portrayed by:
(born April 12, 2002[1])
Biography
Edit
The reincarnation of the Hän, Hana was born out of wedlock when her mother was seduced by an archeologist, who intended to steal the Yamanouchi scrolls from her. When he almost succeeded, Hana's mother resigned out of shame for being deceived and died of childbirth when the shame became to much for her.[1]
Alternate timelines
Edit
.
Physical appearance
Edit
.
Psychological profile
Edit
.
Skills and abilities
Edit
.
Equipment
Edit
.
Weaknesses
Edit
.
Relatives
Edit
Appearances
Edit
Ollie Powers
Edit
"The Intruder"
"Risk Factor" (Cameo)
"The Perfect Nanny"
"Big Brother"
"Someone for Everyone"
"Melvin's Birthday"
"The Little Things in Life"
"Graduation Day"
Appearances in Other Media
Edit
.
References
Edit
Ad blocker interference detected!
Wikia is a free-to-use site that makes money from advertising. We have a modified experience for viewers using ad blockers

Wikia is not accessible if you've made further modifications. Remove the custom ad blocker rule(s) and the page will load as expected.