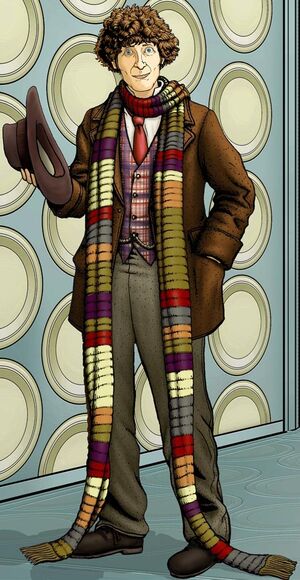 Portrayed by:
"Would you like a jelly baby?"
— The Fourth Caretaker's catchphrase
The Fourth Caretaker (3467-4550) represented the fourth incarnation of the Time Lord known as the Caretaker, though he was the fifth body in the lineup.
Foreshadowing
Edit
.
Post-Renewal
Edit
.
"Obvious place."
— First Words of the Fourth Caretaker
The Caretaker visited Quonza, encountered the supercomputer Imelo and inadvertently installed in Imelo a copy of his own personality. [[.|.]]
Early Adventures
Edit
.
The Nerva BeaconEdit
.
Travelling with Felicity Barnes
Edit
.
Return to Gyacasch
Edit
.
Companionless
Edit
.
The Noble Savage
Edit
.
Lyza and PLU-2
Edit
.
Lord President of Gyacasch
Edit
.
Nest Cottage
Edit
.
A Return to Wandering
Edit
.
Joined by Sally
Edit
.
Walking in Eternity
Edit
.
Quest for the Key to Time
Edit
.
Further Adventures with Reena
Edit
.
The New Reena
Edit
.
Travels in E-Space
Edit
.
Return to N-Space
Edit
.
Watched by the Assistor
Edit
.
.
"I guess this old body of mine has had it, but there's no reason to worry."
— Last Words of the Fourth Caretaker
Post-mortem
Edit
.
Undated events
Edit
Alternate Timelines
Edit
.
Appearance
Edit
.
The Fourth Caretaker was 1.91 metres tall.
.
Psychological profile
Edit
Personality
Edit
The Caretaker's fourth incarnation was one of the least human-like incarnations in nature and stood apart from others, [[.|.]] even his own people. [[.|.]] His mind often leapt ahead of anyone, including himself. [[.|.]] He delighted in keeping both friends and foes alike off guard with oddball humour and curious pranks, as was his previous incarnation. He often played the fool to lull his opponents into underestimating him. [[.|.]] He could judge character keenly, almost instantly knowing whom to trust. [[.|.]]
Although generally peace-loving and kind-hearted, as were most of his incarnations, the Fourth Caretaker could also react with sudden violence when necessary. [[.|.]] He was also not against taking a life in extreme circumstances, [[.|.]] but would scold Lyza for unnecessary killing. [[.|.]] Though he was much less inclined to use physical violence than his predecessors, the Caretaker would react aggressively if he had no alternative but to defend himself. [[.|.]] He improvised non-lethal weaponry when necessary, [[.|.]] but was also not averse to more lethal weaponry as a necessity against both sentient and non-sentient beings, like the De-mat Gun, [[.|.]] or contemporary firearms. [[.|.]]
He also had a strong moral code, such as when he faced the dilemma of whether to destroy the Dreleks, stating that if he did, he would be no better himself than the Dreleks. [[.|.]] He was also appalled at the actions of the Captain, [[.|.]] and refused to listen to Professor Tryst's attempts to justify drug-running in order to fund his scientific work, simply telling him to go away. [[.|.]]
Of all of the Caretaker's incarnations, the Fourth Caretaker had perhaps the most consistently anti-authoritarian attitude, with little tolerance for religious dogma or nationalism. [[.|.]] He generally maintained his distance from the Time Lords, and resented that they were capable of re-entering his life when they deemed it necessary. [[.|.]] Not only did he seem more inclined toward a solitary existence, he also emphasised his distance from humanity, although he stated on more than one occasion that he found mankind to be his favourite species. [[.|.]]
Despite his charm and offbeat humour, the Fourth Caretaker was arguably more aloof and sombre than his previous incarnations. He could be intensely brooding, serious and even callous, and would keenly scrutinise his surroundings even when playing the fool. [[.|.]] He would be furious with those he saw as stupid, frivolous, misguided or evil. [[.|.]] When taking charge, he could be considered authoritative to the point of egocentricity, but he was usually the only one capable of solving the situations he found himself in. [[.|.]]
Unlike his predecessors, this incarnation did not maintain a close working relationship with TASK or the Brigadier, a trend which carried forward with his future incarnations. The Fourth Caretaker reacted with anger when the Brigadier recalled him to Earth. [[.|.]] Except for a handful of occasions, the Fourth Caretaker kept his distance from TASK. [[.|.]]
He was also not adverse to winding up his companions on occasion, such as once fooling Lylza into standing and playing with a yo-yo for an extended period of time, with her believing it was an experiment. [[.|.]] On another occasion, he caused Reena to panic when he pretended to be possessed by the Black Guardian. [[.|.]]
Younger in appearance than his previous incarnations, the Fourth Caretaker found himself drawing closer to his companions than he might have previously. [[.|.]] He tended not to display such feelings himself, [[.|.]] not even when accompanied by the often scantily clad Lyla, [[.|.]] although he acknowledged that Reena was attractive in her first incarnation, [[.|.]] and, in her second incarnation, he even kissed her. [[.|.]] He was, for the most part, oblivious to other people's attractiveness, believing that calling them "probably beautiful" was a compliment. [[.|.]]
Habits and Quirks
Edit
The Fourth Caretaker would often have jelly babies with him and offered them as a greeting. While future incarnations also showed occasional fondness for the sweet, it was never as frequent as the fourth incarnation's love for them. [[.|.]]
He would often instruct his companions to follow him by saying, "Come on", even saying it when he was following them. [[.|.]] He would often ask others if they were listening to him, [[.|.]] and often told PLU-2 to "shut up". [[.|.]]
The Fourth Caretaker would sometimes relax by playing with a yo-yo [[.|.]] and liked to drink ginger beer. [[.|.]] He also started a trend of talking to the IDRIS, constantly showing affection for his magnificent machine by kissing it and caring for it when it got damaged. [[.|.]]
The fourth incarnation tended to have tantrums when he argued with his companions, but, upon agreeing with them, he would say "ah". [[.|.]] He would often described an inhumane adversary as an "unspeakable abomination". [[.|.]]
Unlike his immediate predecessor, the Fourth Caretaker was very physical, being an excellent runner [[.|.]], fencer [[.|.]] and fighter. The Inhuman Experiments
The Fourth Caretaker possessed telepathic powers, allowing him to communicate with other telepathic users. While later incarnations had to make physical contact to use telepathy, the fourth incarnations could project his mind over long distances. [[.|.]] Due to, what he described as, his complex mind, this Caretaker was able to immunise himself from telepaths. [[.|.]]
The Caretaker was also a master hypnotist, able to use a watch to hypnotise people or break other hypnotists' hold on them with the snap of his fingers. [[.|.]]
The Fourth Caretaker was also shown to be a highly skilled swordsman, being able to hold his own against multiple opponents, [[.|.]] and the finest swordsman on Tara. [[.|.]]
Like several of his incarnations, the Fourth Caretaker's pockets appeared to be dimensionally transcendental, [[.|.]] although he once hypocritically told Luke Ryder that it was a mistake to clutter one's pockets. [[.|.]] He carried an array of items in his pockets, which included a seemingly endless supply of Jelly babies, a galactic passport, [[.|.]] a cricket ball, [[.|.]] a lockpick, [[.|.]] a football rattle, [[.|.]] a magician's cane, [[.|.]] a clockwork egg-timer, [[.|.]] a breathing tube, [[.|.]] a barrister's wig, [[.|.]] an instant camera, [[.|.]] and a magnifying glass, gemstones, handcuffs, and an etheric beam locator. [[.|.]] On one occasion, he even dropped a cup containing a hot beverage into his pocket. [[.|.]]
Relationship With Other Selves
Edit
.
Appearances
Edit
Time and Space
Edit
"The Rise of the Robot"
""
"The Inhuman Experiments"
"The Creation of the Dreleks"
""
""
"The Undead Planet"
""
""
""
"The Dreamers of Phados"
""
""
""
""
""
"The Storm Mine Murders"
""
""
""
""
""
""
"The Invaders of Time"
""
""
""
""
""
""
""
"The Tearing of the Veil"
"The Valley of the Lost"
""
"Shada"
""
""
""
""
""
""
"The Laws of a Mad Man"
"Killers of the Dark"
"The Invasion of the Pleasant Moons"
"Through Crimson Stars"
""
"Professor Solon's Monster"
""
References
Edit
Incarnation of the Caretaker
Ad blocker interference detected!
Wikia is a free-to-use site that makes money from advertising. We have a modified experience for viewers using ad blockers

Wikia is not accessible if you've made further modifications. Remove the custom ad blocker rule(s) and the page will load as expected.