Portrayed by:
Matthew Samuel Beelzebub, better known by the assumed name of Cain Cromwell, is a fictional character from the Murderous hexalogy, serving as the main antagonist in the first movie, a second villain in the sequal, the main protagonistic anti-hero in the prequal, an anti-villain in the third film, again a second villain in the fourth film and then the main antagonist of the final incarnation, Judgement Day. Cain is generally seen as the hexology's main antagonist overall.
Appearence
Edit
.
Personality
Edit
.
Abilities
Edit
.
.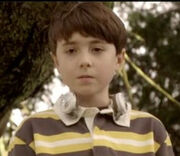 .
"Do it, no one would know."
— Cain Cromwell's last words
.
Relationships
Edit
.
Cain share traits with the following killer;

Jack the Ripper: Prior to the fifth movie, Cain was never caught. Though, unlike the Ripper, Cain was seen and identifide.
Fred West: Cain's intrest in bondage and using it to torture his victims. Also, Cain tried to presue a sexual relationship with his first victim and invited her to join him. Unlike West's victim, Cain's victim did not join him, but still loved him.
Peter Tobin: Cain's ability to comit crimes and yet avoid the police, despite them knowing who he is.
Name Trivia
Edit
Cain - The first murderer in the Bible.
Cromwell - Home street of British serial killers Fred and Rosemary West.
Matthew - Chapter of the Bible, a chapter with evil in it.
Samuel - Chapter of the Bible, a chapter with evil spirites in it.
Beelzebub - One of the many names of the Devil.
Ad blocker interference detected!
Wikia is a free-to-use site that makes money from advertising. We have a modified experience for viewers using ad blockers

Wikia is not accessible if you've made further modifications. Remove the custom ad blocker rule(s) and the page will load as expected.