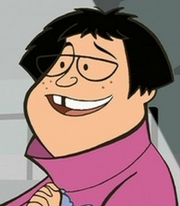 Portrayed by:
(born March 22, 1965[1])
Biography
Edit
.
Alternate timelines
Edit
.
Physical appearance
Edit
.
Psychological profile
Edit
.
Skills and abilities
Edit
.
Equipment
Edit
.
Weaknesses
Edit
.
Appearances
Edit
Ollie Powers
Edit
"The Lair of the Beast"
"Science Partners"
"Showdown at the O'Kay Corral" (Wanted poster only)
"Sick Day" (Image only)
"Honor"

"Where Have All The Villains Gone?"
"Ollie Powers: Race Against Time"
"The Hyde Factor"
"Grande Size" (Cameo)
"Graduation Day: Part 2" (Cameo)
Appearances in Other Media
Edit
.
References
Edit
Ad blocker interference detected!
Wikia is a free-to-use site that makes money from advertising. We have a modified experience for viewers using ad blockers

Wikia is not accessible if you've made further modifications. Remove the custom ad blocker rule(s) and the page will load as expected.